3-Heights™ PDF Security – encryption, decryption, signature creation & verification
The 3-Heights™ PDF Security component offers comprehensive functionality in two independent yet combinable areas: Electronic signatures and encryption.
Electronic signatures
Applying an electronic signature guarantees the authenticity and integrity of documents, both of which are important requirements in electronic data exchange. Depending on the characteristics of the signature and the country it is used in, an electronic signature can be equivalent to signing a document by hand. Electronic signatures offer advantages with regard to the speed, security and automation of business correspondence.
The 3-Heights™ PDF Security component is able to apply various types of electronic signature (simple, advanced and qualified). The component's benefits include PDF/A conformity, embedding information on the validity of certificates (OCSP, CRL), time stamps and compatibility with signature hardware (HSM) for mass signature applications. The component can verify existing signatures by checking their integrity.
Encryption
PDF documents used in professional circumstances contain important information that needs to be protected against unauthorized access and unintentional alteration. This is achieved by protecting PDF documents through encryption and user permission flags.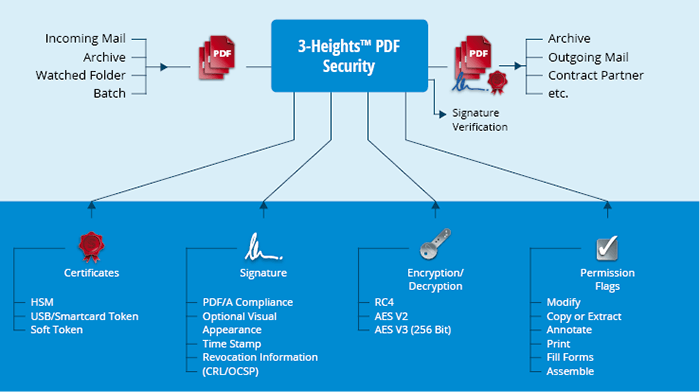 Properties and benefits
This component is characterized by its high performance and a comprehensive range of services. It efficiently encrypts and signs even large numbers of PDF documents. Advanced and qualified electronic signatures (QES) guarantee the authenticity and integrity of documents whilst improving the quality of archived documents and increasing the security of business processes.
Document authorization can be defined by applying an author's signature (MDP) or setting permission flags.
Performance characteristics
PDF/A compliant signature
Embedding of cryptographic time stamps (TSP)
Embedding of Online Certificate Status Protocols (OCSP)
Embedding of Certificate Revocation Lists (CRL)
Cryptographic Service Provider (CSP) interface
Supports Windows Certificate Store
PKCS#11 interface for connecting a hardware security module (HSM)
Hardware Token Session Support –> unique PIN input for batch signing
Programmatic PIN transfer for advanced signatures, e. g. corporate certificates
Revocation information caching for efficiently signing large numbers of documents
Platform independent
Electronic signatures
Application of compliant signatures to PDF/A documents
Verification of signatures in a PDF document
Simple, advanced and qualified electronic signatures
Long-term signatures with embedded trust chain, time stamp and verification information on certificate validity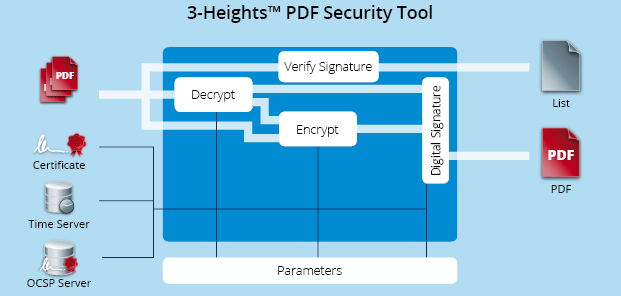 Support for mass signature devices (HSM) via PKCS#11
Author's signature (MDP)
Listing and restoring revisions
Invisible and visible signatures and design functions for visible signatures
Encryption
Protect PDF files against unauthorized access
Encrypt and decrypt PDF documents with owner and user passwords
Set document permission flags

Read
Print
Extract
Annotate, sign
Change
etc.
Set encryption filters (none, RC4, AES)
Set encryption key length (40 … 128 bit)
Decrypt including AES V3 (256 bit)
Archiving
Documents are signed prior to archiving; this increases compliance with audit requirements, for instance. A hardware security module can be used to handle large numbers of documents. Verification enables the authenticity and integrity of signed documents to be checked prior to archiving.
Incoming mail
Verification of incoming signed PDF documents to ensure they have not been modified during transmission and were transmitted by an authenticated sender.
Outgoing mail
The component can encrypt and apply an electronic signature to PDF documents before they are sent, thus enabling the recipient to verify authenticity and integrity.
Software manufacturers/OEM
The 3‑Heights™ PDF Security component is quickly integrated in solutions without any need for extensive learning and programming.
Other areas of use
Add encryption and/or digital signatures for PDF files to applications (client, server, web)
Centralized signature service with HSM for mass signatures in input/output management
Workflow support systems (author, review, release, etc.)
Client solutions (signature application software)
e‑books
Input formats
Output formats
PDF
PDF/A (if input format is already PDF/A)
Compliance
Standards:

ISO 19005‑1 (PDF/A‑1)
ISO 19005‑2 (PDF/A‑2)
ISO 19005‑3 (PDF/A‑3)
ISO 32000 (PDF 1.7)

PAdES
Operating Systems
Windows Vista, 7, 8, 8.1, 10 - 32 & 64 bit
Windows Server 2008, 2008 R2, 2012, 2012 R2, 2016 – 32 & 64 bit
HP‑UX 11i incl. ia64 (Itanium) - 64 bit
IBM AIX 6.1 - 64 bit
macOS 10.4 - 32 & 64 bit
Linux 2.4 & 2.6 - 32 & 64 bit
Oracle Solaris 10, SPARC & Intel
HP-UX 11, PA-RISC2.0 - 32 bit
Programming languages
All program libraries are written in efficient and thread-safe C++. API offers a selection of the following connections to programming languages:
C and C++ via native C
C#, VB .NET, J# via .NET
Java via JNI
MS Visual Basic, Borland Delphi, MS Office products such as Access and C++ via COM
Product Variants
Shell tool (command line)
API (programming interface)
Windows service (monitored directories)
Difference between an electronic signature and a digital signature
The term "digital signature" is used in legal contexts; its meaning is comparable with the expression "signed by hand".
An "electronic signature", on the other hand, refers to the technical implementation of a signature.
Furthermore, how these terms are interpreted differs between various countries.
Signature types
There are various signature types:
Document signature: Any user can apply a signature to a document.
Author's signature (MDP): Only the document's author is permitted to sign the document.
Qualified signature: A signature that is guaranteed through the use of hardware such as a USB key or smart card. The German identity card is an example of a qualified signature.
Advantages of digital signatures in comparison to manual signatures
Time-saving
Processes in which large numbers of documents need to be signed or where the signees are in different locations can take days to complete. Digital signatures can drastically reduce this time span.
Security
Unlike a manual signature, a digital signature has more than just legal implications. It offers the additional option to programmatically verify the authenticity and integrity of a document and the time at which it was signed.
Requirements and legislation
Certain processes have specific requirements concerning the exchange of documents. In some countries (e. g. Germany and Switzerland) applying a qualified electronic signature is equivalent to signing a document by hand.