3-Heights™ PDF Web Viewer - advanced PDF visualisation in JavaScript
Developer component – The 3-Heights™ PDF Web Viewer API is a compact, high-performance, high-quality javascript PDF viewer. It offers a multitude of navigational and display options for displaying documents. This viewer is mainly characterized by its increased performance and its uniform and simple interface.
View
View your PDF documents in high quality in browsers and on mobile devices
Integrate
Seamless and efficient integration in your corporate browser and web applications
Annotate
Apply pictures, text or more to your PDF documents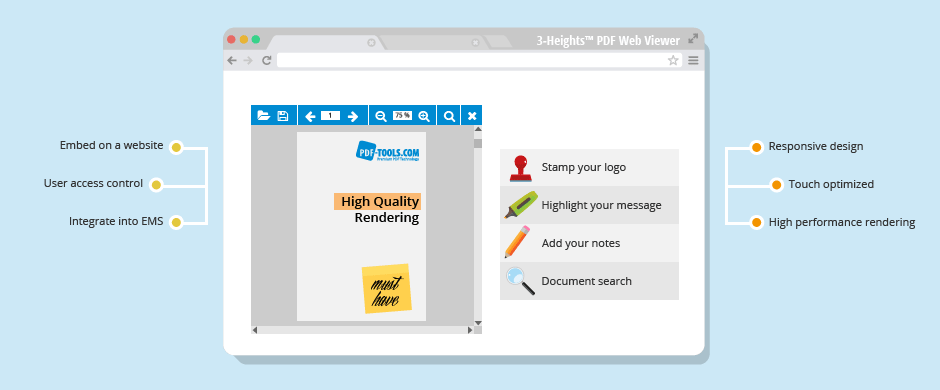 Web Viewer - Functions
Navigate manually (user action) or programmatically through a document
Select between different fit modes: actual size, fit to width, fit to height
Rotate and display the page
Show thumbnails and use them for navigation
Show outlines (Bookmarks)
Change language of the GUI (currently English and German supported)
Create, edit and delete annotations

Text annotations
Ink annotations (free hand drawings)
Stamp annotations (Draft, Approved, etc.)
Freetext annotations
Highlight annotations (highlight, strike out, underline, squiggly)

Touch handling for mobile devices
Enter password to decrypt PDF documents
Read document from file or memory or from a blob
Supports the Forms Data Format (FDF) file format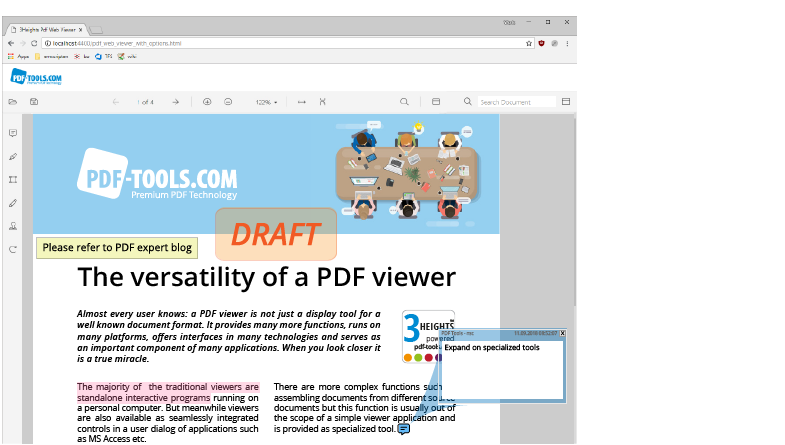 Conformance
ISO 32000-1 (PDF 1.7)
ISO 32000-2 (PDF 2.0)
ISO 19005-1 (PDF/A-1)
ISO 19005-2 (PDF/A-2)
ISO 19005-3 (PDF/A-3)
Supported formats
Input formats
PDF 1.0 to 1.7
PDF 2.0
PDF/A-1, PDF/A-2, PDF/A-3
FDF (Form Data Format)
Output formats
PDF 1.0 to 1.7
PDF 2.0
PDF/A-1, PDF/A-2, PDF/A-3
FDF (Form Data Format)
Areas of use - mobile-friendly viewer from desktop to mobile devices
Document viewing via browser
Get industry leading rendering quality for high fidelity document presentation. Usable in all corporate areas and in every modern browser. Runs indepently and efficient on every device with corresponding browser.
Annotate
While viewing and reading the PDF documents in the browser the user is able to add and share notes. Apply pictures, text or more in the PDF documents.
The versatility of a PDF viewer
Almost every user knows: a PDF viewer is not just a display tool for a well known document format. It provides many more functions, runs on many platforms, offers interfaces in many technologies and serves as an important component of many applications. When you look closer it is a true miracle.
Special - PDF rendering
The PDF graphics model is unique and differs significantly from the models of most of the publically available graphics engines. What are the requirements of a high-quality PDF rendering engine and is there a relation to PDF 2.0?
Read more about the essential part of a good PDF rendering engine