3-Heights™ PDF Printer – Print documents to any output device
Developer component – PDF documents are used in many areas of business and need to fulfill differing demands with regard to printing. These include a high throughput rate, high visual fidelity even with complex documents, PDF/A-conform printing, printing on paper or in print datastreams such as PS, PCL and XPS.
Conform printing
Print on paper or in print datastreams
Batch & mass printing
Optimized for large volumes with high troughput rate
Print control
Comprehensive control of printer settings
Printing bulk PDF Files at one of India's premier clinical pathology laboratories
With the 3-Heights™ PDF Printer now implemented downstream of the in-house application, Dr Lal PathLabs is able to deliver the reports in a committed time frame which is actually far shorter than what was achieved with the previous mechanism of printing reports through the application itself.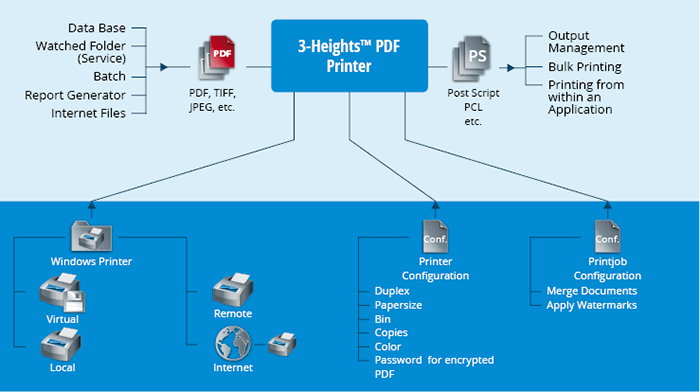 PDF Printer - features
Printing on paper or virtual printers and divert printing to a file
Local / remote printing
Select paper format
Select paper tray
Select print quality
Define page sequence
Select printer-specific properties
Color management control
Supports http, https and ftp data streams
Print raster images (TIFF, JPEG, PNG, etc.)
Group documents in one print job
Integrate watermarks (text, image)
List printers per host and printer properties (supported paper formats, trays, etc.)
Duplex printing
Select orientation
Print multiple copies
Positioning (centering, scaling, realigning)
Print encrypted documents
Conformance
ISO 32000-1 (PDF 1.7)
ISO 32000-2 (PDF 2.0)
ISO 19005-1 (PDF/A-1)
ISO 19005-2 (PDF/A-2)
ISO 19005-3 (PDF/A-3)
TIFFV6
Supported formats
PDF 1.0 to 1.7
PDF 2.0
PDF/A-1, PDF/A-2, PDF/A-3
BMP
GIF
JBIG2
JPEG
JPEG2000, JPEG-LS
PBM
PNG
TIFF
Output formats
Print spool formats, such as PostScript, PCL5, PCL6, AFP
Areas of use - print PDF documents
Printing from within applications
The PDF Printer component offers a flexible print function for applications for creating and processing PDF and image documents.
Batch and mass printing
The PDF Printer can be used in companies of any size as a central printing service for PDF documents and image documents. It is particularly suitable for personalized printing, ticket printing and generating paper copies from electronic archives.
Other areas of use
Creation of printer data streams for COLD applications
Receipt printer in subsidiaries
Web-based printing
Printing as the last step of a report generator
The problem with embedded fonts in PDF mass printing applications
PDF is more and more finding its way into mass printing applications. However, PDF spool files often ask too much from a print engine resulting in aborts or, even worse, incomplete prints which may not be noticed. What is special about PDF mass printing...
Special - PDF rendering
The PDF graphics model is unique and differs significantly from the models of most of the publically available graphics engines. What are the requirements of a high-quality PDF rendering engine and is there a relation to PDF 2.0?