PDF Tools AG - Témoignages de clients – Histoires à succès
Greater efficiency and stability when creating PDF and TIFF documents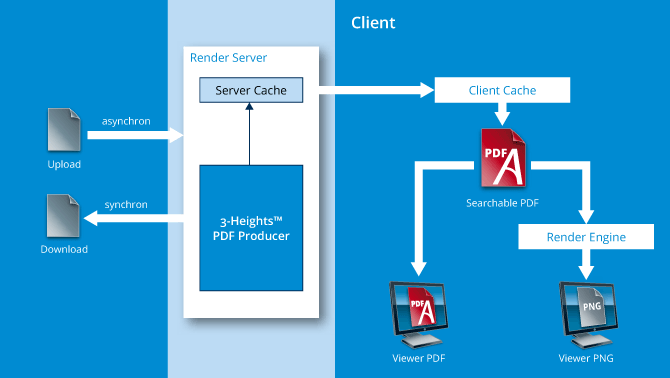 Exigences de l'application
SAPERION offers quality- and cost-conscious companies a solution for every aspect of Enterprise Content Management. It makes a continuously growing quantity of data controllable, is optimized for each segment and company, and gives the entire IT infrastructure a strong backbone. Quality and stability problems with existing PDF converters from competitors coupled with a poor performance when creating renditions forced SAPERION to look around for different software. It should deliver guaranteed high performance when printing PDF and TIFF documents and enable the searchability of generated PDFs. The 3-Heights® PDF Producer from PDF Tools AG achieves a rate of efficiency that is tenfold that of competitor products. Integrating the 3-Heights® PDF Producer in the SAPERION ECM client makes it possible to transfer documents from any application to the SAPERION ECM solution.
Avantages pour le client
The 3-Heights® PDF Producer in the SAPERION ECM converts various types of Office document into the long-term storage format PDF/A. This process is now much faster and produces fully searchable PDF documents. Integration on the basis of the examples provided was quick and easy and maintenance has been improved. The company intends to integrate the 3-Heights® Image to PDF Converter in the SAPERION ECM solution on account of the positive experiences to date.
Réalisation
The components were integrated via .NET API for configuration in the SAPERION solution. Office documents are now automatically rendered by the 3-Heights® PDF Producer and can be searched by any application. Furthermore, documents already in the archive are converted to PDF and TIFF format by via a COM API.

Témoignage du client
« Thanks to the 3-Heights® PDF Producer, we have speeded up the rendering process for Office documents tenfold. The quality of the searchable PDF/A long-term formats is excellent. Collaborations with the manufacturer were exemplary. Our support requests were dealt with competently on the same day »
Thomas Stellmach,
Vice President Development, SAPERION AG
Profil de l'entreprise SAPERION AG
Founded in 1985, SAPERION AG now maintains six competence centers distributed throughout Germany in addition to its headquarters in Berlin, and is also very well-positioned internationally with subsidiaries in Great Britain, North America, Poland, Portugal, Switzerland, Singapore and Spain. Medium-sized businesses and globally active corporations such as Daimler, Siemens, Henkel and DB Schenker bank on products from SAPERION: the intelligent SAPERION ECM system is the basis for simple, audit-proof data archiving and traceable processes.