Department of Education and Sport (DES) of the City of Zurich
PDF Tools AG - Témoignages de clients – Histoires à succès
Minimization of paper-based files at the City of Zurich's Department of Education and Sport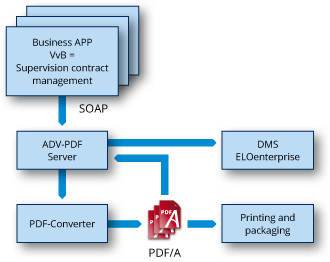 Exigences de l'application
The introduction of the new act about the funding of childcare in Zurich had raised the question how to efficiently handle contracts in an enterprise content management environment. Regulations require all households, which receive support from the city of Zurich, to communicate changes in their household and financial situation on a yearly basis.
The census forms (12'000 applications per year) reach the households by sending them through the post. For the coordination of holiday support another 60'000 holiday support applications must be processed and managed annually. Thus far these documents had be processed, mailed and archived in paper form. The entire handling was considerably simplified by means of the comprehensive solution implemented by Advellence.
The solution includes the "Information Manager" ELOenterprise, an SAP interface as well as the 3-Heights® Document Converter Service.
Avantages pour le client
Today, employees at the Department of Education and Sport can access the documents at any time. Long search times and a lack of overview belong firmly in the past thanks to minimized paper-based records, resulting in a significant increase in administrative efficiency.
The ISO Standard PDF/A is specifically geared towards archiving requirements and guarantees that documents remain legible in the long term. The service is meanwhile used for other projects of the Department of Education and Sport as well as by other departments of the City of Zurich due to the simplicity of its web service connection.
Réalisation
A background process loads survey forms and holiday supervision applications in the form of MS-Word templates and fills them with data; these documents are then converted to PDF/A format by a 3-Heights® Document Converter incorporated in a custom-built web service application from Advellence. An external service provider then prints and delivers the PDF/A documents to each household by post. The documents are simultaneously imported directly into the ELOenterprise where they are automatically archived in the corresponding electronic file and indexed.

Témoignage du client
« Efficient solutions were needed to reduce the costly administration of child-care contracts. Outsourcing the printing, packaging and dispatch of invoices and forms is doubtlessly one of the most effective measures. It called for a fail-safe, high-performance PDF conversion solution that was efficiently integrated by our partner company. Products from PDF Tools AG integrated by Advellence have proved to be a very successful solution. »
Albert Malär,
Head of the Datawarehouse and Informatics Dept. (DID), Department of Education and Sport (DES) of the City of Zurich
« A tight time schedule for project implementation demanded solutions that were quick to integrate and capable of handling requirements efficiently right from the start. The PDF Converter from PDF Tools AG as a central component was able to meet and indeed exceed these requirements. »
Patrick Schäublin,
Project Manager/ ECM Consultant, Advellence Solutions AG
Profil de l'entreprise Department of Education and Sport (DES) of the City of Zurich
The Department of Education and Sport of the City of Zurich pursues activities in numerous areas in the interest of children and young adults in Zurich. The objective is to achieve an open elementary school that offers a superior and holistic quality of education, a competitive institution that provides an important contribution to the quality of Zurich city as a location. The Department of Education and Sport employs a workforce of around 5,500.
Profil de l'entreprise Advellence Solutions AG
Advellence is an established Swiss consultant and service provider in the IT sector; the company also develops software for medium and large businesses as well as public administrations and institutions. Advellence offers a broad portfolio of "Enterprise Information Technology" solutions encompassing advice and analysis, planning and design, development and implementation as well as training, maintenance and support.