3-Heights® PDF Merge Split - merge PDF & split PDF in C#, Java or Batch
3-Heights® PDF Merge Split is a component for splitting and merging the pages of PDF and PDF/A conform documents with practical additional functions. It can process multiple input and output documents simultaneously. A special feature is the component's ability to process and create PDF/A-conform files. 3-Heights® PDF Merge Split is available as shell tool for batch processing with the command line and as API to be integrated with C#, Visual Basic, Java or C/C++.
Merge PDF
Combine multiple PDF documents in one, append individual pages to an existing document
Split PDF
Split a PDF into multiple new documents, or extract individual pages
Concatenate PDF
Assemble PDF documents for dedicated processes such as archiving or printing

Paperless electronic file management at the cantonal tax administration authority
The electronic archive at the cantonal tax administration authority of Thurgau was introduced in pursuit of a paperless electronic file management system. Comprehensive file management of documents is intended to boost efficiency and enable a standardized archiving process.

PDF and PDF/A functionality in a document management system
The goal was to ensure that the processing of electronic files was part of the process at each stage and also supported the user in acquiring information. All the necessary documents needed to be easily available to the user at decisive way points.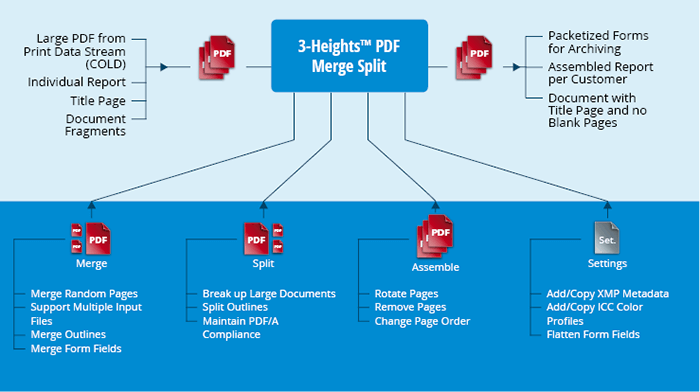 PDF Merge Split - Features
Merge different PDF documents or pages thereof to form a single PDF document
Split a PDF document of many pages into a number of smaller PDF documents
Process PDF/A documents: If all the input documents are PDF/A, then the output is PDF/A with automatically chosen version and compliance level (down-grade)
Automatic PDF version upgrade when merging documents with differing PDF version. Merging PDF 1.x and PDF 2.0 is currently not supported
Rotate pages
Flatten or remove form fields and annotations
Set or copy the color profile for the output device (output intent)
Set or copy document information and metadata (XMP)
Extract the number of pages, the media box and crop box of a PDF document
Extract XMP metadata from a PDF document
Add embedded files to a PDF document
Optimize page resources when merging PDF documents
Set passwords and permission flags
Process from the file system and from memory
Copy or remove outlines (bookmarks) and create custom outlines
Merge or remove document structure information
Remove named destinations
Set document information entries (title, author, ...)
Write a linearized PDF (fast web view)
Set the page mode, initial page layout, and open action
Split vertical or horizontal double pages into single pages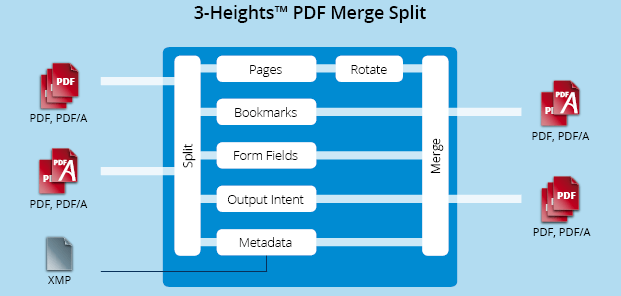 Areas of use - split and merge PDF documents
Customer files
Sort individual documents such as scanned documents, generated reports, correspondence, etc., by customer and reassemble to form a file for each customer.
Archiving
Packetize and archive forms by date, ensuring that completed form fields in the documents are rendered unchangeable (flattening).
Mail dispatch
Split and merge large PDF documents converted from print data streams (COLD) so they can be assigned to envelopes.
Other areas of use
Assembling reports from different individual documents or fragments thereof
Adding further pages such as title pages to documents
Removing unwanted pages, for instance, blank pages
Packetizing individual invoices to large batches for archiving, for instance daily and monthly processing
Contact us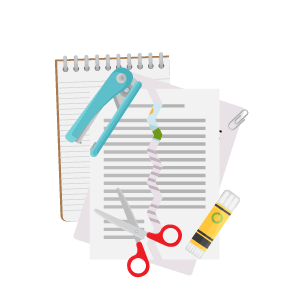 Splitting and merging pages of PDF documents
Single out pages from a number of input documents and re-arrange them in a set of output documents belongs to the daily routine in a document assembly application. At first glance, this seems to be a clear and understandable task. But PDF offers some special features, on which you should keep an eye during assembly.