3-Heights® PDF Extract - Parse and extract content, resources and metadata in C#, Java or Batch
3-Heights® PDF Extract is a highly efficient and versatile PDF content and metadata parser and extractor. It constitutes the technical foundation of many solutions: from basic PDF to Text conversion to complex solutions in the area of business intelligence, big data and reporting. It allows a precise and throrough conversion of binary data (PDF) to structured information, e.g. in Unicode, images and metadata. The product provides page-wise extraction via command line or more complex operations using its API, e.g. with C#, Visual Basic, Java or C/C++.
Extract Information from PDF
Extract information such as text, images and metadata from PDF
Easy Integration
Integrate into data analysis, indexing and output management systems
Intuitive Indexing
Extract information to index documents and find them more easily

Improved "InsureSign" solution by using PDF Tools AG products
InsureSign is the easiest way to get a document signed by the insured instantly, regardless of their location. The provider Advance Management Company aimed to reduce the overall size of the application and intended to increase the speed of their solution.

Bayer CropScience relies on the ISO long-term archiving format PDF/A
More than 20,000 documents that are required by public authorities for regulatory reasons are created yearly within Bayer CropScience. The wide product spectrum and the unique functionality convinced Bayer CropScience to select the products from PDF Tools AG.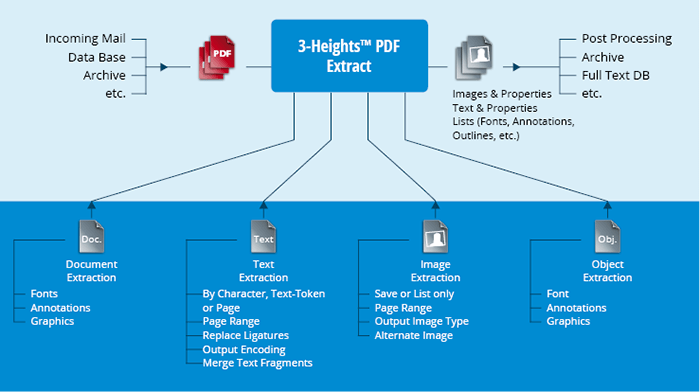 PDF Extract - Features
Extract text:

Word by word with configurable word boundary detection
Retrieve text attributes such as position, font and font size
Automatically apply correct character decoding and produce Unicode output
Extract raw character codes

Extract graphics objects (paths):

As strings that contain PDF graphics operators
Convert extracted paths to images

Extract and store images:

Retrieve image attributes such as compression format, position and transparency masks
Extract and store transparency masks
Extract and store alternate images

Extract PDF document-level information:

Page count
PDF version
Page labels
Creation and modification date
Document information such as title, author, subjects, and more
Outlines (bookmarks) including destinations

Extract page information:

Media box, crop box, trim box, bleed box and art box
Page rotation
Annotations

Extract and store embedded font files
Retrieve detailed font information
Retrieve optional content group (OCG) information and visibility (layers)
Retrieve detailed graphic state information for each extracted page content object
Extract raw PDF objects
Extract document parts for PDF/X or PDF 2.0
Retrieve detailed color space information including lookup tables for indexed color spaces
Extract and store embedded files
Specify a password to decrypt PDF files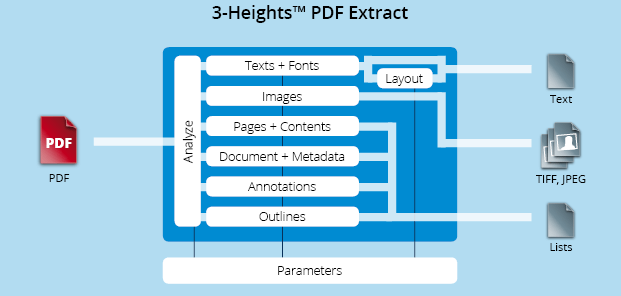 Areas of use - extract information out of your PDF documents
Incoming mail and document processing
Content from PDF files such as forms or scanned incoming invoices, for instance, is extracted and processed for characterization or indexing.
PDF documents are used to store important information relating to products, customer data and corporate knowledge. Meta information such as the document's creator, date of creation or date of modification are further integral parts of a PDF document. PDF documents are often used as "containers" to enable the transfer of text, images, videos and other data to other processes independently of the platforms in use.
Outgoing mail
PDF documents are restructured in preparation for use by other target groups. The process reads out processing information such as barcodes, address information or page formats that can then be used for controlling printing and packaging lines or sorting processes.
Archiving
Texts or their components are extracted for separate storage in metadata. This allows document indexing to be extended as required.
Other areas of use
Convert PDF documents into text documents
Extract information such as addresses, invoice data and report data from documents for process control purposes
Extract information for document classification and document indexing
Process data in forms
Extract images for further processing (scans, photos, etc.)
Analyze and evaluate the content of PDF documents in mass processing
Contact us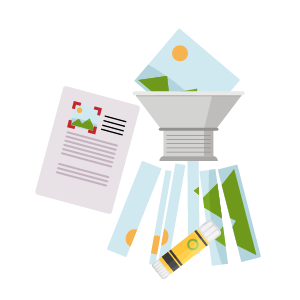 What can I do about sliced images?
If I try to extract images from a PDF file it sometimes happens that I get a bunch of slices of the original image, mostly consisting of a few image rows per slice or, in extreme cases, just one row. Why is that and how can I get the entire image in one piece?