3-Heights® PDF Analysis & Repair - recover and repair PDF files
The 3-Heights® PDF Analysis & Repair component detects and repairs corrupted PDF documents in automated processing procedures. It repairs defective or illegible PDF documents or restores them as far as possible. The component analyses PDF documents with regard to PDF specifications and repairs them where indicated. It extracts legible content such as images or page fragments from irreparable documents and saves the data as a new document.
Incorrect PDF creation or manipulation, faulty FTP transfers, system crashes during creation, network interruptions or incomplete copying can all render PDF documents illegible. This can result in the loss of important data and, as a consequence, the loss of information or production downtimes.
Diagnose
Automatically detect and repair corrupted PDF documents
Recreation
Restore lost content and regain information
Quality Assurance
Use at incoming-mail stage to improve quality

PDF/A conversion with OCR recognition for Volkswagen Foundation's document management
The Volkswagen Foundation had numerous different types of PDF and office documents, images and emails stored in their previous document management system (DMS). For the future, all image and PDF documents should be converted into the standardized long-term archiving format PDF/A.

PDF and PDF/A functionality in a document management system
The goal was to ensure that the processing of electronic files was part of the process at each stage and also supported the user in acquiring information. All the necessary documents needed to be easily available to the user at decisive way points.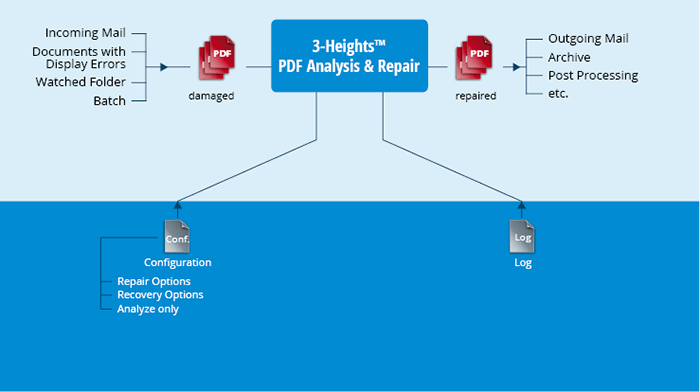 PDF Analysis & Repair - Features
Analyze and/or repair one or more PDF Documents
Set analysis options, including:

Objects
Page tree
Content stream

Set repair options, including:

Restore data streams
Restore fonts
Restore XRef table
Restore pages
Restore images if pages cannot be restored

Display error description for every message, including:

Type (errors, warnings, information)
Error code
Text-based description
Page number
Number of events

Write error messages to log file
Read encrypted PDF files
Read input from and write output document to file or memory
Encrypt restored file and set permission flags
Set error level to identify whether errors, warnings or merely information occur
Set reporting level to determine which messages should be issued (errors, warnings, information)
Differentiate between"Repair"(corrects the errors in the document) and"Restore"(recreates the documentbased on the remaining legible information)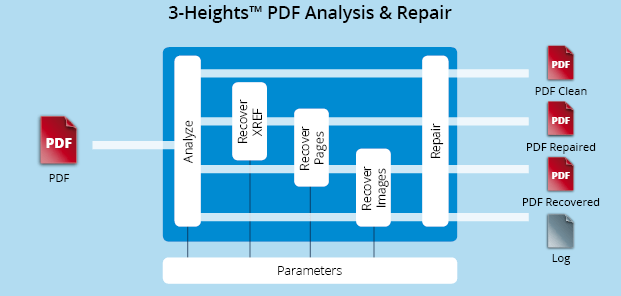 Areas of use - detect and repair corrupted PDF documents
Archiving
The component enables quality checks to be carried out prior to archiving. Defective PDF documents are repaired in good time or removed from the archiving process.
Incoming mail
Incoming or scanned PDF documents received as mail are thoroughly analyzed and repaired on the basis of a customized profile. This process subjects PDF documents to a strict quality control check before they are released for use in document management systems, workflow and other business processes.
Outgoing mail
It is also possible to use the PDF Analysis & Repair component to apply quality controls to outgoing mail. Documents are checked prior to conversion to a print format such as PCL or Postscript to avoid rejects and idle time, thus increasing efficiency. It should be assured that recipients of PDF documents dispatched by email receive a legible and utilizable PDF document.
Other areas of use
Quality assurance
Correction of systematic errors
Contact us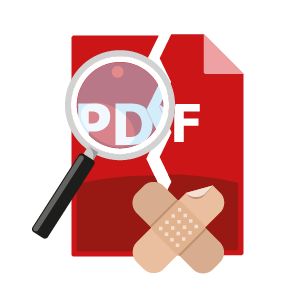 The art of repairing damaged PDF files
I sometimes got a little shock when I wanted to open a PDF file and the viewer only showed an error message. In some cases, however, the viewer can save the file and repair it, but often not. This experience made me think about a repair tool...