3-Heights® Image to PDF Converter - bulk convert image to PDF in Java, C# or batch
The 3-Heights® Image to PDF Converter component converts images such as TIFF, GIF, PNG and JPEG to PDF and PDF/A documents - programmatically or by command line. The Image to PDF Converter is used to convert images to PDF in an ISO-standardized format, for instance for electronic archiving or electronic data exchange. It is also possible to integrate metadata from external sources during the conversion process. An optional OCR add-on is available to create searchable output files.
Document Verification
Benefit from various supported compressions including MRC, set target resolution and color space
Archive Migration to PDF/A
Convert TIF to PDF programmatically (C#, Java) or by batch file to efficiently migrate a large TIFF archive to PDF/A
Searchable PDF and PDF/A
Convert images to PDF and PDF/A and optionally apply OCR at the same time

Central document conversion with efficient rendition service at Gebrüder Weiss GmbH
For converting documents, Gebrüder Weiss originally used open source software in conjunction with its in-house solution. However, certain file formats were not supported, so the company evaluated and licensed the conversion solution developed by a competitor of PDF Tools AG as part of an archive migration.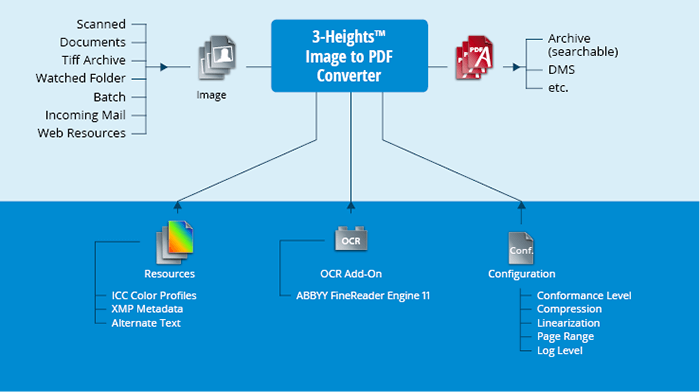 Image to PDF Converter - Features
Image to PDF

Conversion of single page or multi-page raster images to PDF
Set PDF conformance
Automatic or selectable image compression, depending on the image type
Automatic or selectable PDF page size
Selectable page area
Selectable image quality for lossy compression
Set image position
Set scaling
Set standard resolution (DPI / X and Y coordinates)
Set encryption and user access permissions
Selectable and embeddable ICC color profile
Define alternative texts (tagging) and image language
Set document attributes
Optional JPEG image recompression
Set image orientation (portrait or landscape)
Optical character recognition (OCR)
Embedding XMP metadata
Support for image masks
Support for mixed raster content (MRC)
Image to Image

Split single page or multi-page raster images into individual, single page images
Merge multiple images to form one multi-page image
Convert to an image format of the same color depth
Modify TIFF image compression
Set quality index for lossy image compression
Create lossless JBIG2 images and lossy/lossless JPEG2000
Set resolution and image dimensions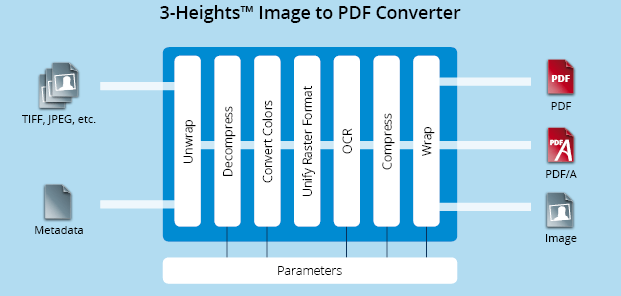 Conformance
Standards:

ISO 32000-1 (PDF 1.7)
ISO 32000-2 (PDF 2.0)
ISO 19005-1 (PDF/A-1)
ISO 19005-2 (PDF/A-2)
ISO 19005-3 (PDF/A-3)
TIFF V6

Quality assurance: Isartor test suite
Supported formats
Input Formats
BMP (1, 2, 4, 8, 24 bit)
GIF (2 to 8 bit)
JBIG2 (lossless compression)
JPEG, JPEG2000 and JPEG-LS (Grayscale, RGB)
PBM and PNG (1 to 8, 24 bit)
TIFF
Bitonal : uncompressed, CCITT G3, CCITT G3-2D, CCITT G4, LZW, ZIP, Packbits
Grayscale, RGB and CMYK: uncompressed, LZW, JPEG, JPEG (old), ZIP, Packbits
Output Formats
Image to PDF Converter:
PDF 1.0 to 1.7
PDF 2.0
PDF/A-1a, PDF/A-1b
PDF/A-2a, PDF/A-2b, PDF/A-2u
PDF/A-3a, PDF/A-3b, PDF/A-3u
Output Formats
Image to Image Converter:
All input formats plus EPS

Areas of use - convert images to PDF and PDF/A
Incoming mail
Scanned documents can be converted from JPEG and TIFF format into PDF/A, PDF or other image formats. Further standardized processing and secure archiving of incoming documents is thereby guaranteed. Received texts can be made available via optional OCR functionality.
Archive
Conversion of existing TIFF or JPM archives or files into a long-term PDF/A archive conform with ISO requirements and with full text searching options.
OEM
The 3-Heights™ Image to PDF Converter can be integrated into scanning solutions, fax software, COLD output software, document management systems, archiving systems, etc.
Contact us
// Create the converter
using (Img2Pdf converter = new Img2Pdf())
{
    // Set PDF Compliance level
    converter.Compliance = compliance;

    // Create output file
    if (!converter.Create(outPath, "", "", PDFPermission.ePermNoEncryption))
        throw new Exception(String.Format("Output file {0} cannot be created. {1} "+ 
            "(ErrorCode: 0x{2:x})", outPath, converter.ErrorMessage, converter.ErrorCode));

    // Convert pages from input image to PDF
    if (!converter.CreatePageFromImage(inPath))
        throw new Exception(String.Format("Pages cannot be created from image input {0}. " + 
            "{1} (ErrorCode: 0x{2:x})", inPath, converter.ErrorMessage, converter.ErrorCode));

    // Close output file
    if (!converter.Close())
        throw new Exception(String.Format("Output file {0} cannot be closed. " + 
            "{1} (ErrorCode: 0x{2:x})", outPath, converter.ErrorMessage, converter.ErrorCode));
}