Dear readers,
In this issue, we are pleased to present our latest 4-Heights® product: the PDF Web Viewer. The new generation has been completely redesigned on the inside and is now being enriched step by step with more features. In addition, the PDF Web Viewer is also available in a more affordable basic version.
Something else has changed inside PDF Tools AG. Our support process is becoming even more efficient with the help of a ticketing system.
Do you have questions or topics you would like to read about in this newsletter? Let us know at pdfmarketing(at)pdf-tools.com.
Happy reading!
Your PDF Tools Team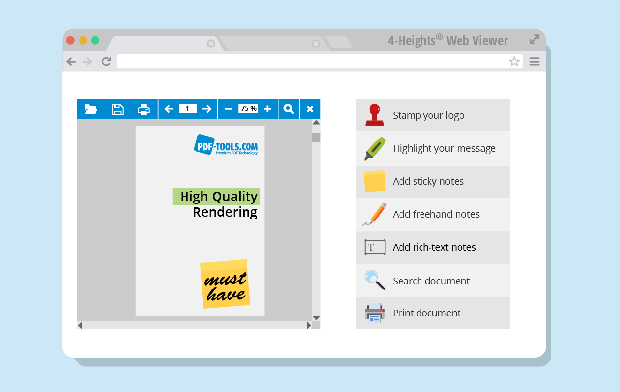 All new from the inside: the 4-Heights® PDF Web Viewer
Recent years have seen a tremendous increase in the use of web browsers as a new standard client platform, being available on almost any device and any operating system. Three years ago, we have responded to the need of viewing PDF documents in a JavaScript application with the introduction of the 3-Heights® PDF Web Viewer.
Although this product is still supported, it is time for a new generation: The 4-Heights® PDF Web Viewer.
While on the surface, both products appear similar, the inside has changed substantially. We have also added a few features and will continue to do so:
New rendering engine: The 4-Heights® generation rendering is even faster and more accurate in displaying complicated PDF pages.
Printing: The new PDF Web Viewer features basic support for printing PDF files directly from the web browser.
Annotations: Like its predecessor, the PDF Web Viewer has many functionalities for adding and editing PDF annotations, such as text highlights, sticky notes, or stamps.
Viewing-only version: For customers, who do not use annotations, we can offer a more affordable viewing-only version.
The 4-Heights® PDF Web Viewer faces an exciting roadmap with features such as filling form fields and improved support of FDF files. Stay tuned for further releases!
Find out more about the new PDF Web Viewer
Customer support becomes even more efficient thanks to ticketing system
We want to inspire you as our customers with our products and services. Our software is designed with the focus on processing large volumes at high speed and obtaining a high-quality result. In the development of our 4-Heights® product generation, we put additional emphasis on simplicity, both in installation and configuration as well as in use.
If, contrary to expectations, a product does not work as it should, our support team is there to help and advise you. We are very proud of our customers' excellent support ratings. We do not want to rest on our laurels and are planning further improvements.
When it comes to troubleshooting, time is an extremely valuable asset. Requests should reach the right person as quickly and easily as possible. Our new ticketing system, which went into operation in mid-May, supports us in achieving this. We would like to further increase our efficiency in order to provide you with feedback as early as possible and to resolve errors in no time at all. We will continue to accept your support requests via support form and e-mail.
Contact our support team