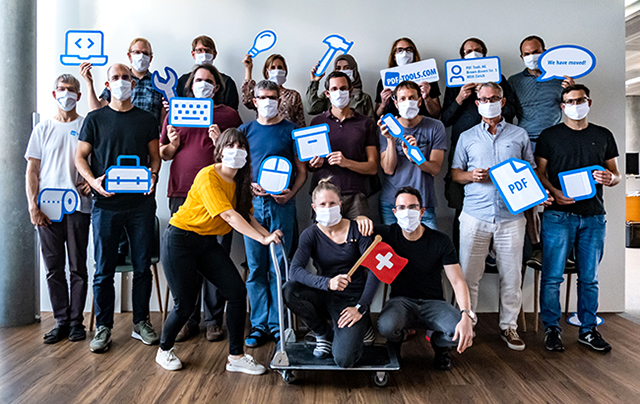 ---
2020 has brought many challenges and changes for all of us. We were in the midst relocating to a larger, more modern office, when suddenly the motto became: "Stay at Home". This meant from virtually one day to the next, our team at PDF Tools AG had to get used to working within their own four walls. Nevertheless, the team quickly adapted to the situation and was able to continue to work efficiently despite the pandemic.
As a result, today we are proud to present our new product generation: 4-Heights®. 4-what, you ask? 4-Heights® is our new product generation and after almost 18 years of successful commitment to our 3-Heights® products, it was time for this particular innovation.
The vision for this new product line is to meet current technological requirements such as cloud and mobile computing, docker containers, etc. while reaching new horizons with the automation of document-based business processes. This way, we are able to exponentiate the existing requirements already applied to our current 3-Heights® products:
Premium Quality
Exceptional Performance
High Scalability
In addition to the requirements mentioned above , there is Simplicity. Our 4-Heights® products are not only easy for you to install, but also easy to configure, integrate, operate and maintain.
---
The first 4-Heights® product
Imagine your customer service department receiving numerous documents from different sources via e-mail. How do you ensure that these documents can be processed without extensive manual effort? You harmonize your documents by converting them to PDF and optimizing them for further processing (e.g. appending additional information).
Imagine that you also have an archive for storing your business documents. How do you ensure that they are all stored in a legally compliant manner? That they will remain legible in the rapidly changing IT landscape for years to come? You could convert your documents to PDF/A and optimize them for storage in the archive, for example by making them searchable.
These and many other scenarios can be automated with our first 4-Heights® product: the 4-Heights® Conversion Service is the central hub for your company and can be easily integrated into your existing document processes. Further scenarios, such as quality control or dossier creation, are currently being developed.
Case Study: Archiving
Documents stored in an archive must meet certain criteria. On the one hand, these requirements could be of a purely technical nature (e.g. using minimal storage space, while at the same time ensuring high quality), but on the other hand, they could be mandatory by law in order to be legally valid (e.g. documents being displayed with the exact same appearance on all devices, even in several years from now).
To achieve this, it is recommended to convert your documents to PDF/A. This conversion ensures all required fonts are embedded and dynamic or malicious content is removed. At the same time, the file size can be reduced by removing redundant data, font subsetting or other compression methods.
It is particularly important to use a high-quality converter that can handle complex documents and use intelligent compression methods because the PDF standard is very extensive and not always clear. In addition, the removal of content is a delicate matter. If not done correctly, it can lead to corrupt or non-compliant output documents, missing content or even blurred images if the compression is done poorly or too aggressively.
There are several tools on the market that cover these individual steps. But there is only one tool which has been specially developed for this particular use case, masters all the above steps with the highest quality and is ready to use with minimal integration and configuration efforts: the 4-Heights® Conversion Service with the archiving workflow.
You can find out more information here: 4-Heights® Conversion Service.
3-Heights® products' ongoing development
We have also been diligently developing our current product line. This year with a special focus on simplifying integration and supporting new standards. The following innovations are particularly noteworthy:
ZUGFeRD 2.1.1 and XRechnung
In the first quarter of 2020, ZUGFeRD 2.1 was introduced and harmonized with the French format Factur-X 1.0, which considerably simplifies data exchange between countries. A few months later, the successor version ZUGFeRD 2.1.1 was introduced. This new version contains the latest "XRechnung'' profile, which simplifies the exchange with public administrations in Germany, as it meets their specific requirements (e.g. national business rules and administrative regulations).
Available with the 3-Heights® PDF to PDF/A Converter.
New versions of signature services
Swisscom All-In Signing Service
The service supports the new Swisscom root certification instances. Due to new regulations, which oblige the certification providers to use improved algorithms, Swisscom has to change the root certification instance to CA4. We are now supporting accounts using CA4.

The creation of PAdES signatures is now also supported.
GlobalSign Digital Signing Service
The new version of this service is now also supported.
Available in 3-Heights® PDF to PDF/A Converter.
NuGet and .NET Core
All our .NET components are now available through the package manager NuGet, which greatly simplifies integration and updates for your developers. In addition, with the support of .NET Core, the technical basis for the platform-independent use of the components was created. To benefit from this innovation, please contact our sales department.
We hope that at least one of these new features will make your life easier. With this in mind, we wish you a great end-of-year and stay healthy!
SUBSCRIBE NEWSLETTER
---
EVENTS
Documation 2021
September 7–9, 2021
Paris, France
---
NEW CUSTOMERS @PDF TOOLS AG
Geovap spol. s r. o., Czech Republic
Products used:
Laboratoire National De Santé, Luxembourg
Products used: