PDF Tools AG - Customer testimonial - success story
Swiss Life archives documents from Microsoft SharePoint in PDF/A format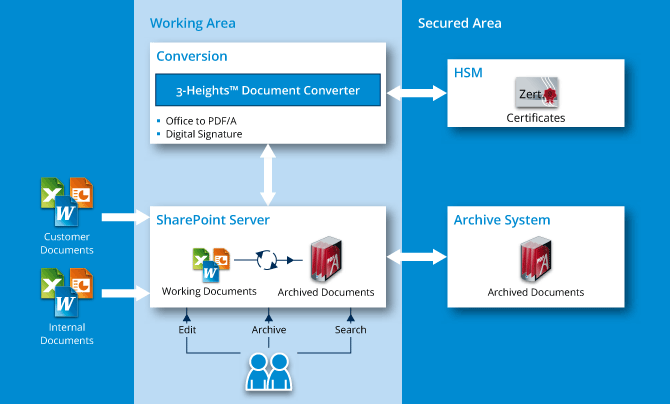 Application requirements
In the area of group insurance, a wide variety of Microsoft Office documents from daily business transactions for creating proposals and managing portfolios of collective contracts are administered in Microsoft SharePoint. These documents were previously archived in TIFF format. They originate from different business cases like requests for proposals, underwriting, and benefit entitlements in addition to transactions that can be conducted by the customers themselves, including new admissions, terminations, salary changes, personnel mutations, yearly updates etc.
By changing to a PDF/A conforming archive directly out of Microsoft SharePoint, Swiss Life intention is to make the documents text-searchable and, by means of a digital signature and time stamp, fulfill compliance requirements. This should be achieved in the future through conversion of the Microsoft Office documents directly into PDF/A upon closure of the business case and entering them in the archive together with metadata, a digital signature and a time stamp.
Customer benefits
Through the archiving of documents from Microsoft SharePoint in PDF/A format, the internal employees are controlling the archiving process directly out of SharePoint and can access the archived documents over the standard user interface. The group of users will be expanded in a second stage to include all customers who need direct access to their cases. In addition to the archiving in SharePoint, the files are mirrored in a stand-alone and robust second archive, guaranteeing the long-term availability. Around 1.5 million documents will be added to the digital archive yearly using this means.
Since the archived documents all have a digital signature and a time stamp, important compliance requirements are also fulfilled. For example, the traceability of when documents entered and left the archive and proof that they have been unaltered can be provided. Documents can also be controlled by a "need to know" principle, i.e. users can only view those documents that are absolutely necessary for them. Access (read and write) to the archive must be recorded (logged) and after expiration of the retention time deleted again.
Implementation
The 3-Heights® Document Converter Service is used to archive directly from Microsoft SharePoint, converting PDF files (and in the future also PowerPoint, Word, Excel and email formats) into the long-term archiving format PDF/A. Metadata, digital signatures and a time stamp are added before the files are stored in the archive database. In addition, the PDF/A document itself is also saved in SharePoint.

Customer statements
"The high-performance solution, the support of different Microsoft formats, PDF/A compatibility and proven experience with the hardware security module (HSM) connection were decisive in Swiss Life selecting the solution from PDF Tools AG. The expert knowledge of PDF Tools AG, in addition to their high flexibility, contributed significantly to the success of the project."
Andreas Frei,
Group Architect Application Development UK, Swiss Life AG
Brief portrait of Swiss Life AG
The Swiss Life Group is one of Europe's leading providers of financial security solutions and life insurances. In Switzerland, Swiss Life offers companies and private individuals optimal solutions for all of their financial security needs and risk situations. Around 600 financial consultants in 40 branch offices look after customers throughout the whole of Switzerland.