KIBAG Dienstleistungen AG
PDF Tools AG - Customer testimonial - success story
Audit-compliant archiving of creditor invoices at KIBAG Dienstleistungen AG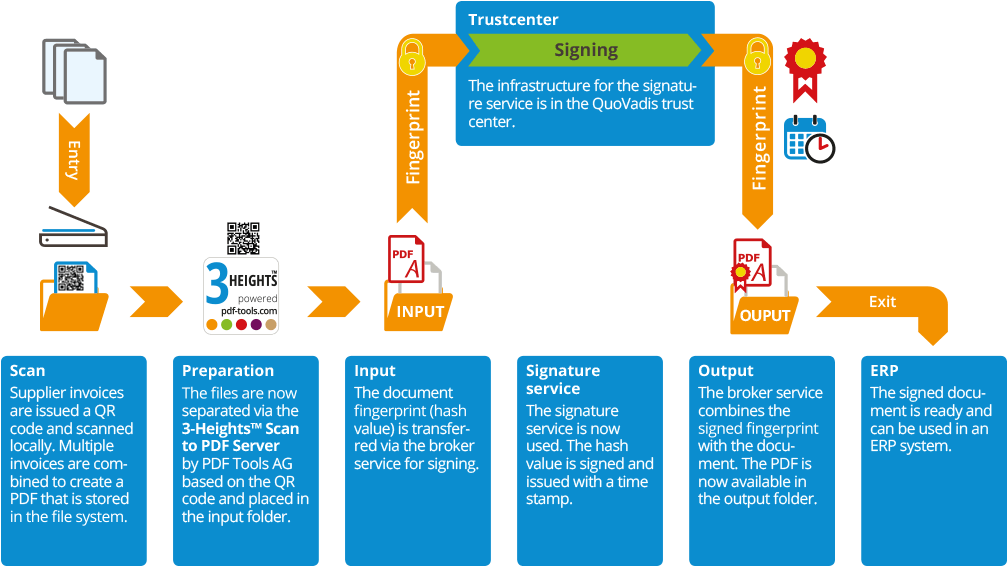 Application requirements
KIBAG Dienstleistungen AG had been scanning creditor invoices directly into ABACUS since 2014. The invoices were scanned in batches and archived in paper form as well. This practice required archive space and work resources. The aim of Project Paperless was to facilitate the audit-compliant archiving of creditor invoices. To achieve this, the individual invoices first had to be separated within a PDF document, with the separated PDFs (invoices) signed individually. PDF Tools AG worked with its partner QuoVadis Trustlink Schweiz AG to find the best solution. Thanks to their efforts, approximately 120,000 documents per year are now electronically archived automatically and manual paper storage has been dispensed with altogether.
Customer benefits
Thanks to the signature and validation service and the integration of the 3-Heights® Scan to PDF Server, KIBAG completely replaced its manual document processing procedure with an audit-compliant electronic archiving system. The process is now more manageable and can be structured more effectively. By automating the process, the manual workload was reduced considerably, thus providing more capacity for other urgent tasks.
Implementation
The project was launched in October 2015. Progress was so quick that the project was finished by November of the same year. Given the ease of implementation of the QuoVadis signature and validation web service, integration was possible within this brief time frame. The subsequent test phase was also kept short and conducted without any problems. The auditing department at KIBAG then validated and approved the solution without any restrictions.

A technical challenge that had to be overcome before the signature and validation service could be used was signature of the documents before they were imported into Abacus. The solution was the 3-Heights® Scan to PDF Server developed by PDF Tools AG. This tool separates documents after they are scanned and stores them in the QuoVadis input folder. The individual PDF documents are then signed via the signature and validation service, issued with a certified time stamp from the QuoVadis trust center and placed in the output folder in order that they can be imported into Abacus.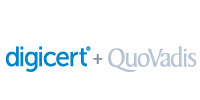 Customer statements
"Thanks to the components provided by PDF Tools AG and QuoVadis Trustlink Schweiz AG, we were able to structure the audit-compliant electronic archiving process so that it was highly efficient and manageable. We were therefore able to cut down significantly on the manual work involved."
Christian Schollenberger,
Head of IT, KIBAG Dienstleistungen AG
"Thanks to our professional partnership with PDF Tools AG, we were able to prepare an outstanding solution in a very short space of time. This solution is now proving its worth at KIBAG on a daily basis."
Pascal Leu,
Head of Professional Services, QuoVadis Trustlink Schweiz AG
Brief portrait of KIBAG Dienstleistungen AG
Founded in 1926 through the merger of a gravel company and an excavation company, KIBAG is a leading Swiss group in the building materials and construction sector. The KIBAG Group consists of 13 gravel plants, 22 concrete works, 17 building companies and recycling and disposal companies. The Group employs about 1,600 employees in total, primarily in the following business segments: building materials, construction works and environment and waste management. Combined, the various enterprises in the Group form a strong team that has a reputation for expertise, efficiency and reliability in the Swiss construction industry.
Brief portrait of QuoVadis Trustlink Schweiz AG
provides managed digital certificate services for enterprises and governments. QuoVadis identity services include Public Key Infrastructure (PKI); Digital Certificates for authentication, encryption, and digital signature; SSL Certificates and Extended Validation SSL for websites; Time-stamping; and Root Signing for internal PKI. QuoVadis is official provider of SuisseID. QuoVadis is a Qualified Certification Services Provider (CSP) in Switzerland, the Netherlands, and Bermuda and holds the WebTrust seal.