PDF Tools AG - Customer testimonial - success story
From paper contracts to digital-born contracts in the ERP system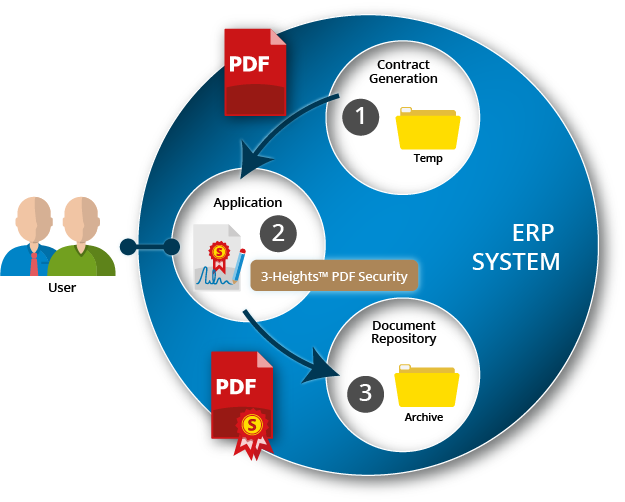 Application requirements
"Maintain a leading role in a saturated market thanks to innovation and investing in new technologies." Applying this guideline, a major Swiss IT company strived to implement digital solutions also for operational processes. It set itself the target to digitize contracting in general, hence moving from paper to legally valid digital contracts in PDF.
A first analysis quickly revealed the demand for in-depth knowledge and specialized software, since applying a digital signature to a PDF contract it not a trivial task. For financial reasons, the project team decided against in-house development and to go with a professional solution instead. The evaluation considered the following decisive factors:
Support for Linux shell script
Correct insertion of the electronic signature
Option to insert a visual signature
Performance
Customer benefits
Thanks to the new solution, every year, around 10'000 contracts are signed electronically. End-customer specific requirements are met. These include personalized presentation of the visual signature, including free choice of typeface, text and background image.
"3-Heights® PDF Security is easy to use and delivers high performance. It was smoothly integrated into the existing system landscape. PDF Tools AG supported us during the rollout in a timely and highly professional manner. They even added a new feature to the product for us."
Implementation
Within the ERP system, various types of contracts are generated as PDF. They are stored temporarily for signing at a later time. Initiated by the user, the signing itself occurs within the ERP application.
3-Heights® PDF Security is called in the background through a shell script. It applies the visual and the electronic signature, based on the provided parameters. A contract can contain up to three signatures. Afterwards the contract is moved to the document repository, where it can be archived. The temporary document is deleted.
Customer statements
"3-Heights® PDF Security completely fulfilled, or rather exceeded, our expectations. The digitization of contracting and the process as a whole came with various complex IT-challenges and difficulties. The swift and uncomplicated integration of 3-Heights® PDF Security was a welcome success in an otherwise complex project environment."
T.W.,
SAP HCM Consultant, IT company
Brief portrait of IT company
A major IT company from Switzerland (detailed information not disclosed based on company policies)