3-Heights™ PDF Merge Split – merging and splitting pages of PDF documents
3‑Heights™ PDF Merge Split is a component for splitting and merging the pages of PDF and PDF/A compliant documents with practical additional functions.
In addition to its main functions of splitting and merging, the application can also rotate pages, copy or add metadata and other document attributes such as document outlines, form fields, color profiles for output devices and much more, as well as flattening form fields.
It can also process multiple input and output documents simultaneously. A special feature is the component's ability to process and create PDF/A-compliant files.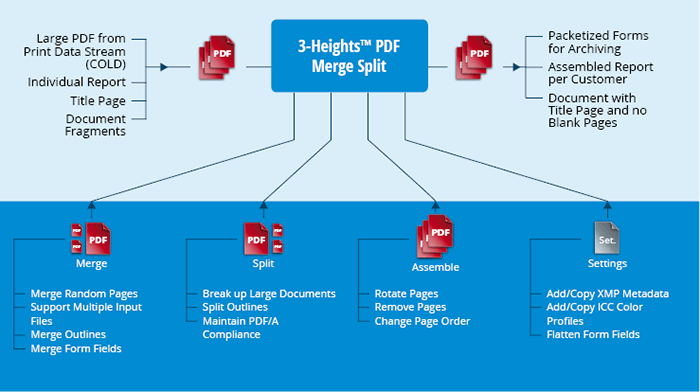 Features and benefits
3‑Heights™ PDF Merge Split is particularly suitable for processing large PDF documents and many pages quickly and efficiently. The component only requires a minimum of system resources.
Performance characteristics
PDF/A-compliant processing
Supports document outlines, form fields, metadata, etc.
Simultaneous processing of multiple input and output files
High performance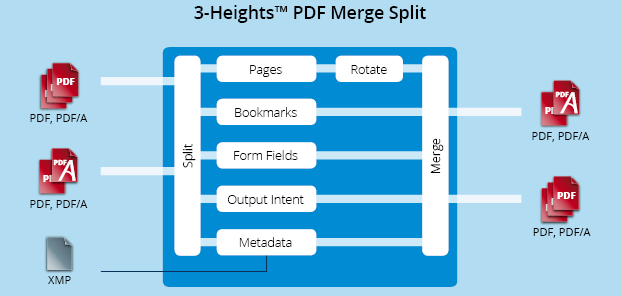 Merge different PDF documents or pages thereof to form a single PDF document
Split a PDF document of many pages into a number of smaller PDF documents
Rotate pages
Flatten form fields
Set and copy the color profile for the output device (output intent)
Set and copy document information and metadata (XMP)
Set passwords and permission flags
Process from the file system and from memory
Customer files
Sort individual documents such as scanned documents, generated reports, correspondence, etc., by customer and reassemble to form a file for each customer.
Archiving
Packetize and archive forms by date, ensuring that completed form fields in the documents are rendered unchangeable (flattening).
Mail dispatch
Split and merge large PDF documents converted from print data streams (COLD) so they can be assigned to envelopes.
Other areas of use
Assembling reports from different individual documents or fragments thereof
Adding further pages such as title pages to documents
Removing unwanted pages, for instance, blank pages
Packetizing individual invoices to large batches for archiving, for instance daily and monthly processing
Input formats
Output formats
PDF and PDF/A (the latter requires all input documents to be compliant with the PDF/A standard)
Compliance
Standards:

ISO 19005‑1 (PDF/A‑1)
ISO 19005‑2 (PDF/A‑2)
ISO 19005‑3 (PDF/A‑3)
ISO 32000‑1 (PDF 1.7)
Operating Systems
Windows Vista, 7, 8, 8.1, 10 - 32 & 64 bit
Windows Server 2008, 2008 R2, 2012, 2012 R2, 2016 – 32 & 64 bit
HP‑UX 11i incl. ia64 (Itanium) - 64 bit
IBM AIX 6.1 - 64 bit
macOS 10.4 - 32 & 64 bit
Linux 2.4 & 2.6 - 32 & 64 bit
Oracle Solaris 10, SPARC & Intel
HP-UX 11, PA-RISC2.0 - 32 bit
Programming languages
All program libraries are written in efficient and thread-safe C++. A selection of the following programming languages is offered in the API:
C and C++ via native C
C#, VB .NET, J# via .NET
Java via JNI
MS Visual Basic, Borland Delphi, MS Office products such as Access and C++ via COM
Product Variants
Shell tool (command line)
API (programming interface)