3-Heights™ PDF Validator – PDF and PDF/A standard conformance validation
The 3-Heights™ PDF Validator safeguards the quality of PDF documents and the processes that create them. Documents are checked for compliance with the ISO standards for PDF and PDF/A documents.
PDF is a widespread format; it is therefore important that interoperability is ensured. Documents containing information of relevance to business or intended for archiving, in particular, need to be validated with regard to their correctness and long-term legibility. This is precisely what the Validator does, whether for a single document or an entire batch.
Incoming validation includes:
Verification of documents with regard to compliance with the PDF and PDF/A standard
Creation of validation reports
Classification of compliant and non-compliant documents
Ensure compliance with corporate directives (Corporate Identity, restrictions to PDF software with regard to creation and processing, etc.)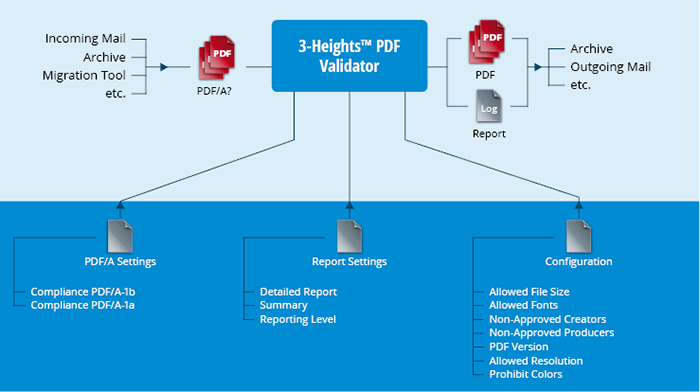 Properties and benefits
Comprehensive checks and a high throughput performance characterize the 3‑Heights™ PDF Validator. As an active member of the ISO organization, PDF Tools AG aims to support future PDF/A and PDF versions. The PDF Validator can validate individual documents and complete archives.
The 3-Heights™ PDF Validator validates documents not only against a selected standard but also against every specification referenced directly or indirectly by the standard. With regard to the validation of PDF/A this means that documents are validated not only against ISO standard 19005‑1, 19005‑2 and 19005‑3 but also against PDF Reference 1.4, ISO 32000 (PDF 1.7), TrueType Specification, Type1 Specification, XMP Specification and many more.
Performance characteristics
Exact verification of the PDF standard used
Robustness
High throughput
Scalability
Ease of integration
Flexible adaptation options
Platform independent
Validation of PDF documents against various PDF specifications

PDF 1.7 (ISO 32000)
PDF/A‑1a, PDF/A‑1b
PDF/A‑2a, PDF/A‑2b, PDF/A‑2u
PDF/A‑3a, PDF/A‑3b, PDF/A‑3u
PDF 1.4
Two types of report

Detailed report (e. g. for software manufacturers)

Quantity
Type
Description
PDF object number
Page number

Summarized report (e. g. for archive gatekeepers)

Classification by error, warning and information
Validation of conformity for individual documents and complete archives
Optional cancellation of validation on occurrence of the first error
Read encrypted PDF documents
Read PDF documents from file or directly from memory
PDF/A-specific validation

Lexical checks
Syntactical checks
Semantic checks

Report document's claimed conformance level
Incoming mail
The Validator checks incoming mail documents for conformance with the minimum requirements, for instance with regard to security, compliance, reproducibility or standardization (PDF/A and PDF). Inadequate documents are rejected.
Archiving
The component also performs the role of an archive gatekeeper, rejecting documents that do not comply with the standard. The Validator can also be used to validate the quality of existing archives and as a quality assurance tool during the conversion of TIFF archives to PDF/A.
Outgoing Mail
The quality of outgoing PDF documents can be checked prior to dispatch. The tool can take guidelines issued by the recipient into account.
Quality management
The Validator can be used in quality management. It is able to monitor compliance with guidelines (CI) across the company or conformity in general, for instance after conversion from another format.
Software manufacturers/OEM
The Validator serves to validate incoming and outgoing documents in applications such as workflow systems and DMS systems as well as – "you sign what you see" – in signature application software.
Input formats
Compliance
Standards:

ISO 19005‑1 (PDF/A‑1)
ISO 19005‑2 (PDF/A‑2)
ISO 19005‑3 (PDF/A‑3)
ISO 32000 (PDF 1.7)

Istartor Testsuite
ZUGFeRD-compliant
Operating Systems
Windows Vista, 7, 8, 8.1, 10 - 32 & 64 bit
Windows Server 2008, 2008 R2, 2012, 2012 R2, 2016 – 32 & 64 bit
HP‑UX 11i incl. ia64 (Itanium) - 64 bit
IBM AIX 6.1 - 64 bit
macOS 10.4 - 32 & 64 bit
Linux 2.4 & 2.6 - 32 & 64 bit
Oracle Solaris 10, SPARC & Intel
HP-UX 11, PA-RISC2.0 - 32 bit
Programming languages
All program libraries are written in efficient and thread-safe C++. API offers a selection of the following connections to programming languages:
C and C++ via native C
C#, VB .NET, J# via .NET
Java via JNI
MS Visual Basic, Borland Delphi, MS Office products such as Access and C++ via COM
Product Variants
Shell tool (command line)
API (programming interface)