3-Heights™ PDF to Image Converter – convert PDF to JPG and other raster formats
How to change PDF to JPG and optimize the image quality or file size
The 3‑Heights™ PDF to Image Converter is a component for converting PDF documents into single page or multi-page raster images such as TIFF or JPEG (pdf to jpeg converter). Alternatively, it can rasterize PDF documents and save them back as PDFs.
Its areas of use include the web, TIFF-based DMS solutions, archive and workflow systems and the protection of PDF documents. The Converter is characterized by its high speed, scalability and high visual fidelity.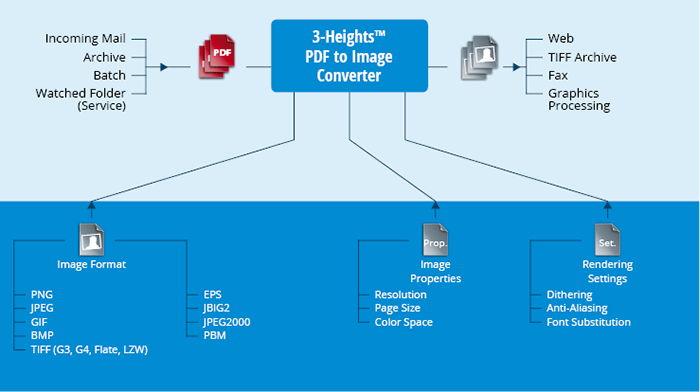 Properties and benefits
Various areas of use
Convert PDF documents into rasterized PDF documents to reduce the file size or prevent text extraction
Convert PDF documents into fax documents
Supports single and multi-page formats
View web-based PDF documents without a PDF viewing software
Performance characteristics
High visual fidelity
High performance and scalability
Ease of integration
Comprehensive format support
PDF to image
Create single page and multi-page image files and rasterized PDF documents
Convert individual pages
Convert PDF files to CCITT fax files
Define page dimensions in points or pixels
Set rotation (Force portrait or landscape or inherit rotation from original document)
Set resolution (DPI)
Dithering (Floyd Steinberg, Halftone Block, Halftone Continuous, Atkinson)
Set image filters
Set color depth
Set color space
Set TIFF file compression
Set the quality of lossy image compression
Set bit filling order for fax files
Add Watermark images
PDF to PDF Image
Raster PDF content (image)
Keep or remove links, outlines or viewer preferences in PDF output document
Incoming mail
Convert incoming PDF documents into TIFF format for further processing in TIFF-oriented workflow processes in document management systems.
Document processing
The PDF to Image Converter creates images for display via the web and in other applications such as an image viewer. The files can be shown in their original size or as low-resolution images or thumbnails. The tool also converts PDF files into rasterized PDF to protect the content.
Archiving
The PDF to Image Converter is suitable for the quick migration of TIFF-based archives.
Other areas of use
Fax server solutions
Conversion to TIFF for TIFF-based archive and DMS systems
Graphics processing
Input formats
PDF (Portable Document Format)
Output formats
TIFF (Tagged Image File Format)
JPEG (Joint Photographic Expert Group)
PNG (Portable Network Graphics)
GIF (Graphics Interchange Format)
BMP (Window Bitmap)
EPS (Encapsulated Post Script)
JB2 (JBIG2, Joint Bi‑level Image Experts Group)
JP2 (JPEG2000)
JPX (Extended JPEG2000)
PBM (Portable Bitmap File Format)
JIF (GIF Flate)
PDF (Portable Document Format)
Operating Systems
Windows Vista, 7, 8, 8.1, 10 - 32 & 64 bit
Windows Server 2008, 2008 R2, 2012, 2012 R2, 2016 – 32 & 64 bit
Programming languages
All program libraries are written in efficient and thread-safe C++. API offers a selection of the following connections to programming languages:
C and C++ via native C
C#, VB .NET, J# via .NET
Java via JNI
MS Visual Basic, Borland Delphi, MS Office products such as Access and C++ via COM
Product Variants
Shell tool (command line)
API (programming interface)
Windows service (monitored directories)