3-Heights™ PDF to Image Converter – convert PDF to JPG and other raster formats
The 3-Heights™ PDF to Image Converter is a component for converting PDF documents into single page or multi-page raster images such as TIFF or JPEG (pdf to jpeg converter). Alternatively, it can rasterize PDF documents and save them back as PDFs.
Its areas of use include the web, TIFF-based DMS solutions, archive and workflow systems and the protection of PDF documents. The converter is characterized by its high speed, scalability and high visual fidelity.
Convert
Change PDF to raster images
Reduce
Optimize the image quality or file size
Preview images
Create thumbnails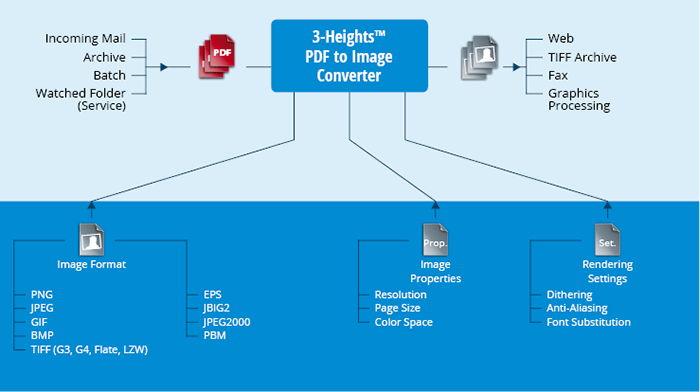 PDF to Image Converter - features
PDF to image
Create single page and multi-page image files and rasterized PDF documents
Convert individual pages
Convert PDF files to CCITT fax files
Define page dimensions in points or pixels
Set rotation (Force portrait or landscape or inherit rotation from original document)
Set resolution (DPI)
Dithering (Floyd Steinberg, Halftone Block, Halftone Continuous, Atkinson)
Set image filters
Set color depth
Set color space
Set TIFF file compression
Set the quality of lossy image compression
Set bit filling order for fax files
Add Watermark images
Define minimum line width
PDF to PDF Image
Raster PDF content (image)
Keep or remove links, outlines or viewer preferences in PDF output document
Supported formats
Input formats
PDF 1.0 to 1.7
PDF 2.0
PDF/A-1, PDF/A-2, PDF/A-3
Output formats
TIFF (Tagged Image File Format)
JPEG (Joint Photographic Expert Group)
PNG (Portable Network Graphics)
GIF (Graphics Interchange Format)
BMP (Window Bitmap)
EPS (Encapsulated Post Script)
JB2 (JBIG2, Joint Bi-level Image Experts Group)
JP2 (JPEG2000)
JPX (Extended JPEG2000)
PBM (Portable Bitmap File Format)
JIF (GIF Flate)
PDF (Portable Document Format)
Areas of use - PDF conversion to Image
Incoming mail
Convert incoming PDF documents into TIFF format for further processing in TIFF-oriented workflow processes in document management systems.
Document processing
The PDF to Image Converter creates images for display via the web and in other applications such as an image viewer. The files can be shown in their original size or as low-resolution images or thumbnails. The tool also converts PDF files into rasterized PDF to protect the content.
Archiving
The PDF to Image Converter is suitable for the quick migration of TIFF-based archives.
Other areas of use
Fax server solutions
Conversion to TIFF for TIFF-based archive and DMS systems
Graphics processing
Improved render quality in the healthcare industry increases patient safety
Integrating the 3-Heights™ PDF to Image Converter from PDF Tools AG has improved the render quality of images in JiveX considerably. Content of PDF documents that was not previously rendered (or only inadequately) is now displayed correctly after switching to the new rendering engine. This has vastly improved the legibility of all documents. A warning sent to the medical staff in the case of rendering problems increases patient safety even further.
On-the-fly image conversion at j2 Global's® cloud services
The customer gained very positive experiences using the 3-Heights™ PDF to Image Converter and the 3-Heights™ Image to PDF Converter: he was able to build its service for using these tools quickly, and conversion rates on varying traffic loads are excellent. Because of the memory based conversion without creating temporary files, j2 also enhanced its security and performance. During implementation of the software, the Fax API Team experienced a very responsive support from PDF Tools AG.
How to transform spot colors without ambiguities
On an RGB screen or a CMYK laser printer spot colors cannot be displayed directly and must be emulated by converting them into their process color equivalent. The Separation and DeviceN color spaces provide tint transform functions to do so...
Do the PDF scan conversion rules have an impact on anti-aliasing?
The scan conversion rules in PDF are special in the sense that none of the publically available graphics libraries implements them. On the other side almost every PDF rendering engine implements an anti-aliasing mechanism to support low and medium resolution bitmaps.
Special - PDF rendering
The PDF graphics model is unique and differs significantly from the models of most of the publically available graphics engines. What are the requirements of a high-quality PDF rendering engine and is there a relation to PDF 2.0?