3-Heights™ Image to PDF Converter – import TIFF, JPEG, PNG images into a PDF/A and PDF
The 3‑Heights™ Image to PDF Converter component converts raster images such as TIFF, JPM and JPEG to PDF/A and PDF documents. Typical applications include:
Conversion of scanned documents to PDF/A documents
Migration of a TIFF archive to PDF/A
Conversion of image files into searchable PDF/A files
Conversion of fax files to PDF/A with optional OCR recognition
The Image to PDF Converter is used to convert raster images into a standardized format, for instance for electronic archiving or electronic data exchange. It is also possible to integrate metadata from external sources during the conversion process. An optional OCR add-on is available to create searchable output files.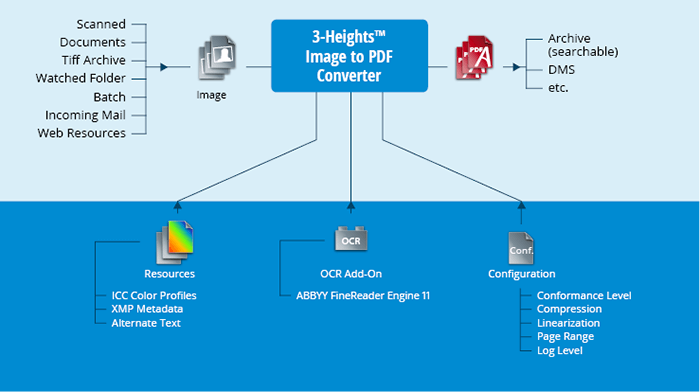 Properties and benefits
The 3‑Heights™ Image to PDF Converter creates documents that are compliant with PDF and PDF/A. A high throughput is proof of its performance. The use of state-of-the-art algorithms automatically reduces the size of the file during processing. The OCR Add-On (optional) enables PDF documents to be searched in full text mode.
Consolidating various image formats into a standardized, platform independent format makes it easier to exchange documents, enables long-term archiving and reduces costs as different specialized raster image viewers and printers are no longer required.
Migrating archives containing scanned documents, which were stored in the mixed raster content (MRC) format, to equivalent PDF/A conforming documents without the need of recompressing the image data streams.
Performance characteristics
Supports a broad range of image formats (standard formats, but also legacy formats such as TIFF V 6 and special formats such as IBM MOD:CA, etc.)
Adoption of metadata from images
Adoption of color space information from images
Supports accessibility requirements
Optional PDF/A compliant output
OCR (optional)
High performance
Processes very large image files
Platform independent
Set output format and conformity level (PDF, PDF/A‑1, PDF/A‑2 and PDF/A‑3)
Conversion of single page or multi-page raster images to PDF
Support for mixed raster content (MRC)
Set orientation to portrait or landscape format
Set the position (centering) and scaling
Set encryption and permission flags
Embed and select the color profile
Define alternative texts (so-called tagging) and their language
Embed XMP metadata
Set document attributes such as title or author
Input and output document from file or memory
OCR (optional)
Conversion of raster images to other raster image formats (e. g. BMP to JPEG)
Linearization for fast web view
Determine the page range for conversion
Set the orientation
Read out image codec information

Color space
Components per pixel
Bits per component
Compression
Height and width
Compression quality
Mask, transparency mask
Number of pages
Palette
Samples
Resolution in X and Y direction
Incoming mail
Scanned documents can be converted from JPEG and TIFF format into PDF/A, PDF or other image formats. Further standardized processing and secure archiving of incoming documents is thereby guaranteed. Received texts can be made available via optional OCR functionality.
Archive
Conversion of existing TIFF or JPM archives or files into a long-term PDF/A archive compliant with ISO requirements and with full text searching options.
OEM
The 3‑Heights™ Image to PDF Converter can be integrated into scanning solutions, fax software, COLD output software, document management systems, archiving systems, etc.
Input formats
TIFF (Tagged Image File Format)
JPEG (Joint Photographic Expert Group)
PNG (Portable Network Graphics)
GIF (Graphics Interchange Format)
BMP (Window Bitmap)
EPS (Encapsulated Post Script)
JB2 (JBIG2, Joint Bi-level Image Experts Group)
JP2 (JPEG2000)
JPX (Extended JPEG2000)
JPM (JPEG2000, Part 6)
PBM (Portable Bitmap File Format)
JIF (GIF Flate)
Output formats
Image to PDF Converter:
PDF/A‑1a, PDF/A‑1b
PDF/A‑2a, PDF/A‑2b, PDF/A‑2u
PDF/A‑3a, PDF/A‑3b, PDF/A‑3u
PDF 1.0 to 1.7

Image to Image Converter:
Compliance
Standards:

ISO 19005‑1 (PDF/A‑1)
ISO 19005‑2 (PDF/A‑2)
ISO 19005‑3 (PDF/A‑3)
ISO 32000 (PDF 1.7)
TIFF V6
Operating Systems
Windows Vista, 7, 8, 8.1, 10 - 32 & 64 bit
Windows Server 2008, 2008 R2, 2012, 2012 R2, 2016 – 32 & 64 bit
HP‑UX 11i incl. ia64 (Itanium) - 64 bit
IBM AIX 6.1 - 64 bit
macOS 10.4 - 32 & 64 bit
Linux 2.4 & 2.6 - 32 & 64 bit
Oracle Solaris 10, SPARC & Intel
HP-UX 11, PA-RISC2.0 - 32 bit
Programming languages
All program libraries are written in efficient and thread-safe C++. API offers a selection of the following connections to programming languages:
C and C++ via native C
C#, VB .NET, J# via .NET
Java via JNI
MS Visual Basic, Borland Delphi, MS Office products such as Access and C++ via COM
Product Variants
Shell tool (command line)
API (programming interface)
Windows service (system service)